Oblu by Atmosphere at Helengeli
Maldives
North Male Atoll
Category: 4 star
Transfer: Speedboat 50 minutes
Our Opinion
The stunning tropical island of Helengeli sits on the desirable outer northern edge of the North Male Atoll in the Maldives and benefits from having one of the very best exotic house reefs* in the country. The island is reached via a 50-minute speedboat ride from the Male International Airport.
It's an ideal location for a relaxing holiday or honeymoon which also offers truly outstanding snorkelling or diving combined with a great 'All Inclusive' plan. It's a luxury four-star superior resort which is relaxed, easy-going and has a modern feel throughout.
The beaches are so picturesque and typical of the Maldives, at times you feel like you're walking straight in to a photograph from the front cover of a holiday magazine!
The island of Helengeli has always been popular with divers and snorkelers from around the world thanks to the thriving coral house reef that surrounds this slender islet. The island is uniquely ideal for channel diving but also has a huge number of famous dive spots nearby. Regular characters from the marine world include sea turtles, rays, reef sharks, octopus, moray eel, and a huge variety of reef fish in massive numbers.
The whole island resort received a complete renovation and was re-launched as OBLU by Atmosphere at Helengeli in November 2015. The resort facilities are completely up to date, fresh, clean and well organised which gives you an immediate sense of relaxation. As you walk around the island everything is so well kept with pristinely maintained. White sandy pathways towered by pruned tropical vegetation are at every turn.
OBLU by Atmosphere at Helengeli includes a renowned 'All Inclusive' plan. It's a complete holiday arrangement by trusted local brand Atmosphere who have built a reputation for value added packages that go the extra mile. This plan covers a huge variety of meals and drinks - unlimited cocktails, wines, spirits and beers and even includes some water-sports too. Also available is service from a cozy lounge called Cooee that serves coffee and snacks by the water.
* Islands of the Maldives are formed in such a way that there can be a house reef on one side of the island and the other side is with a lagoon where most of the water sports activities are carried out or visitors enjoy swimming. Usually the reef side of the island is where the waves break.
This resort is very popular with Invite to Paradise guests
We've been sending clients to this resort for many years they have been so delighted with their experience we have no hesitation in highly recommending it to you.
The accommodation consists of 116 villas, all featuring vibrant, fresh and colourful interiors that are fused with tropical Maldivian designs. It does this in a subtle way, blending with the natural aesthetics of this lush green island. The outdoor bathrooms are a great feature in all the villas and the direct access to the beach and coral house reef beyond is hard to match anywhere.
An impressive sunset jetty with its long wooden boardwalk stretches out from the island to the edge of the reef. As you approach the end of this gorgeous walk the sparkling bright turquoise colours turn to a deeper shade of blue signifying the drop off of the reef. This colour combination never fails to amaze and delivers a stunning view of this part of the Indian Ocean.
There is also a beautifully designed Garden Spa located on the island, ideal for relaxing massages or beauty treatments.
If you're a keen gym goer looking to keep up a strict training regime whilst in the Maldives then consideration should be given to the size of the gymnasium here as it's not very big and has limited equipment. However this may change in the future. The gym does have a good trainer who is very knowledgeable and can provide quality fitness classes.
The staff are very friendly and attentive. They consistently deliver their services with the upmost professionalism, repeatedly going above and beyond to make guests feel special and their stay truly memorable.
Overall the island resort of OBLU by Atmosphere at Helengeli offers holiday, honeymoon and family guests a high quality Maldives experience.
world famous diving and snorkelling
Helengeli island is the ultimate diver and snorkeller's paradise! It has a reputation for its vibrant coral house reef (just meters from the shore). It has channels on both sides of the island which are superb for channel diving. We would definitely recommend kayaking here or heading out on a stand-up paddle board or pedalo. It is so beautiful to have the water surround you with sea life below and to be looking back towards the palm tree studded island with it's white sandy beaches.
complete all inclusive resort
A complete 'All Inclusive' plan is provided for all guests at this resort. So you can relax and indulge in the Maldives without worrying about the cost. Brilliant quality food and drink is included as part of the plan. Breakfast, lunch, dinner, unlimited spirits and beers, non-motorised water sports and even an excursion. See below for more details.
Accommodation
The 116 air-conditioned villas and suites at OBLU by Atmosphere at Helengeli are airy, light and feature a fresh and contemporary design blended with authentic Maldivian touches. The interiors are comfortable and attractive with brightly coloured soft furnishings contrasted with rustic raw edged wooden slabs that look and feel great. The bathrooms are beautifully finished, featuring large open air showers. House keeping services are superb with members of staff doing a great job of keeping the villas and suites spotlessly clean twice a day.
All four categories of villas offer great access to the surrounding beaches and ocean, so you can step out your villa and be snorkelling in the impressive waters around Helengeli just moments later.
FACILITIES FOR ALL VILLAS & SUITES
Hairdryer

Television & Satellite TV

Signature Beach Bag

Life Jackets

Mini-Fridge

Electronic Safe

Coffee & Tea Making Facilities
King Size Bed

Air Conditioning

Open-Air Bathroom

Outdoor Veranda/Deck

Sun loungers

Day bed

Free Wifi

Ceiling Fan
A nice touch is that each villa has a sea shell that you can place on your bed if you want the housekeeper to change the bed linen.
Beach Villas
The semi detached beach villas are on the beach of white sand surrounded by tropical trees. At just a few steps from the shores of Helengeli island, these villas provide lovely views from their verandah and allow for convenient access to the Indian Ocean. At 48 m² the 22 Beach Villas offer relaxing, high quality accommodation and come equipped with a comfy king-size bed, ocean facing outdoor terrace with table a chairs, dedicated sun loungers, mini bar, a colourful seating area and also have large open air bathrooms where you can take a shower whilst listening to a soundtrack of tropical bird song!
Deluxe Beach Villas
The Deluxe Beach Villas share many features of the Beach Villas, but as you would expect they come with a selection of additional features making them even more comfortable and luxurious. At 52 m² they offer a larger space overall with more windows and a glass door, which makes these 64 villas brighter and more airy. They come with fitted wardrobes, net draped king-size beds and have sought after locations with direct beach access to the lagoon and beyond. The ocean facing outdoor terrace come with a comfy day bed and the big open air bathrooms to the back of the villas feature twin basins and outdoor showers.
Deluxe Lagoon Pool Villa
(Previously known as a Lagoon Villa with Plunge Pool)
If you want to say 'wow, look at this!' as you step inside your private Maldives holiday villa, then the exclusive Lagoon Villas with plunge pool at OBLU by Atmosphere at Helengeli could be the perfect tropical retreat for you. As well as having enviable waterside locations, they are also bigger than the Beach Villas and Deluxe Beach Villas with an overall size of 77 m². They manage to strike a balance between island and ocean as the 28 villas are built on the cusp of the coastline with the open-air bathrooms at the back of the villas being over land and the private decks at the front of the villas hovering directly over the sparkling waters of the serene turquoise lagoon delivering jaw-dropping views. A key feature is that you can step straight down in to the water from your own private steps from this deck. Alternatively you can take a refreshing dip in your own exclusive 5.2m² plunge pool that overlooks the vast blue of the Indian Ocean lagoon. The indoor and outdoor day beds are colourful and comfortable whilst the outdoor decks are afforded privacy from the bamboo screens on either side. They also come equipped with two dedicated sun loungers next to the pool. The hardest part of the day is deciding where to lay down and take it all in (once you've done that you need to decide what to jump in first, the pool or the lagoon!) To top it off the Lagoon Villas with plunge pool are ideally positioned on the sunset side of the island facing the north-west allowing for wonderful views of the Maldivian sunsets that paint the skies in vivid shades of exotic reds and pinks. Spending time in these villas is pure bliss and a wonderful way to escape reality and relax in paradise.
2 Bedroom Beach Pool Suite
(Previously known as Beach Suites with Pool)
With direct beach access these incredible 2 Bedroom Beach Pool Suites at OBLU by Atmosphere at Helengeli are perfect for a private Maldives family holiday as they have two bedrooms, two bathrooms and an exclusive 20m² swimming pool! This large luxurious suite consists of a Master Bedroom connected to a well appointed twin room with a wonderfully spacious outdoor space. The location of the villas is great as not only are they directly on the beach and on the sunset side of the island, but they are also very close by to the resort's main facilities such as the Spice Restaurant and Helen's Bar.
The air-conditioned interiors are light and colourful and of a very good quality. They are also very spacious with an overall space of 191 m² and can accommodate up to 6 people. The 2 Bedroom Beach Pool Suites feature a lovely Master Bedroom with a king size bed, a living area with double sliding glass patio doors and sofas that look out over the pool and beach. The bathroom has a bathtub and separate shower whilst the room amenities include a mini bar, robes, life jackets, umbrellas, flip flops and also an espresso machine. The adjacent private twin room features two single beds, sliding fitted wardrobes, an open air bathroom and an equally refreshing interior that steps straight out on to the verandah.
When you're in the Maldives for a holiday it's fair to say it's not all about spending time inside the villa, so we are delighted this suite has a very spacious outdoor area making it ideal for spending quality time together as a family or group. The outdoor space is made up of the good sized swimming pool, a shady verandah with an undercover large corner day bed, raised decking, four sun loungers on the soft white sand, a swaying hammock in the trees and a water bowl for cleaning your sandy feet. The tropical trees and shrubs combine with fenced screens at the side to provide good levels of privacy but still allow for amazing views out towards the Indian Ocean directly from your villa. It's lovely to relax here and just listen to the sounds of the waves as they gently roll in.
There are only a couple of 2 Bedroom Beach Pool Suites on the island resort and they are very popular, often becoming fully booked well in advance. As a result we recommend booking early to avoid disappointment.
Dining
All Inclusive Plan
OBLU by Atmosphere at Helengeli operates its all-inclusive holiday plan for all guests. The all inclusive plan features:
The Spice Restaurant (main restaurant)
Serving breakfast, lunch and dinner; the main restaurant offers a selection of world cuisine for all guests.
Buffet breakfast, lunch & dinner at The Spice on all days (Live Stations Included)

Sunset finger food service on all days (4pm - 6.30pm)
Helen's Bar & Pool (main bar)
(Open 09.00am - 01.00am)
Relax on the beach front pool or chill in the bar with some indoor games.

Unlimited regular spirits and beers from a selection of two brands of whiskey, gin, vodka, rum and beer.


Cocktail collection


Selection of house-pour wine (red, white and rose)


Bottled water, soft drinks, pre-packed juices, tea, coffee

Main 225m² swimming pool overlooking the ocean with sunset views


Weekly theme nights


Evening entertainment

Indoor games

EXCURSIONS & ACTIVITIES
One sunset fishing during stay

One shopping excursion to a nearby inhabited island during stay

NON-MOTORIZED WATER SPORTS
Stand-Up paddle boards

Kayaks

Pedalos
Some items including those listed below have to be paid for separately in the resort:
Parasailing

Jet Ski

Flyboard Pro-Ride

Wake Boarding

Waterskiing

Knee Boarding

Banana Boats

Big Game fishing

Dolphin Cruise

Semi-Submarine Day Trip

Semi-Submarine Night Trip

Starry Night

Sandbank Excursion

Private Romantic Sunset Cruise
Please note that the resort management reserve the right to make amendments to the all inclusive plan without giving prior notice.
Features & Facilities
A complete All Inclusive holiday plan

High quality international cuisine served at live cooking stations at the main restaurant called The Spice (which has a huge waterside deck)


Just Grill restaurant is the resort's speciality à la carte beachfront restaurant

Main swimming pool located at Helen's Bar

Adults-only pool on the other side of the island

Cooee lounge which serves up great coffees, snacks and alcohol

Free Wifi island wide and in the villas

World renowned dive location


Ideal for channel diving (channel on both sides of island)


Fantastic snorkelling from house-reef


PADI certified dive school


Over 20 top dive sites nearby


Gymnasium


Speedboat transfer 50 mins from airport


116 villas in 4 categories


Contemporary Maldivian interiors


Spacious open-air bathrooms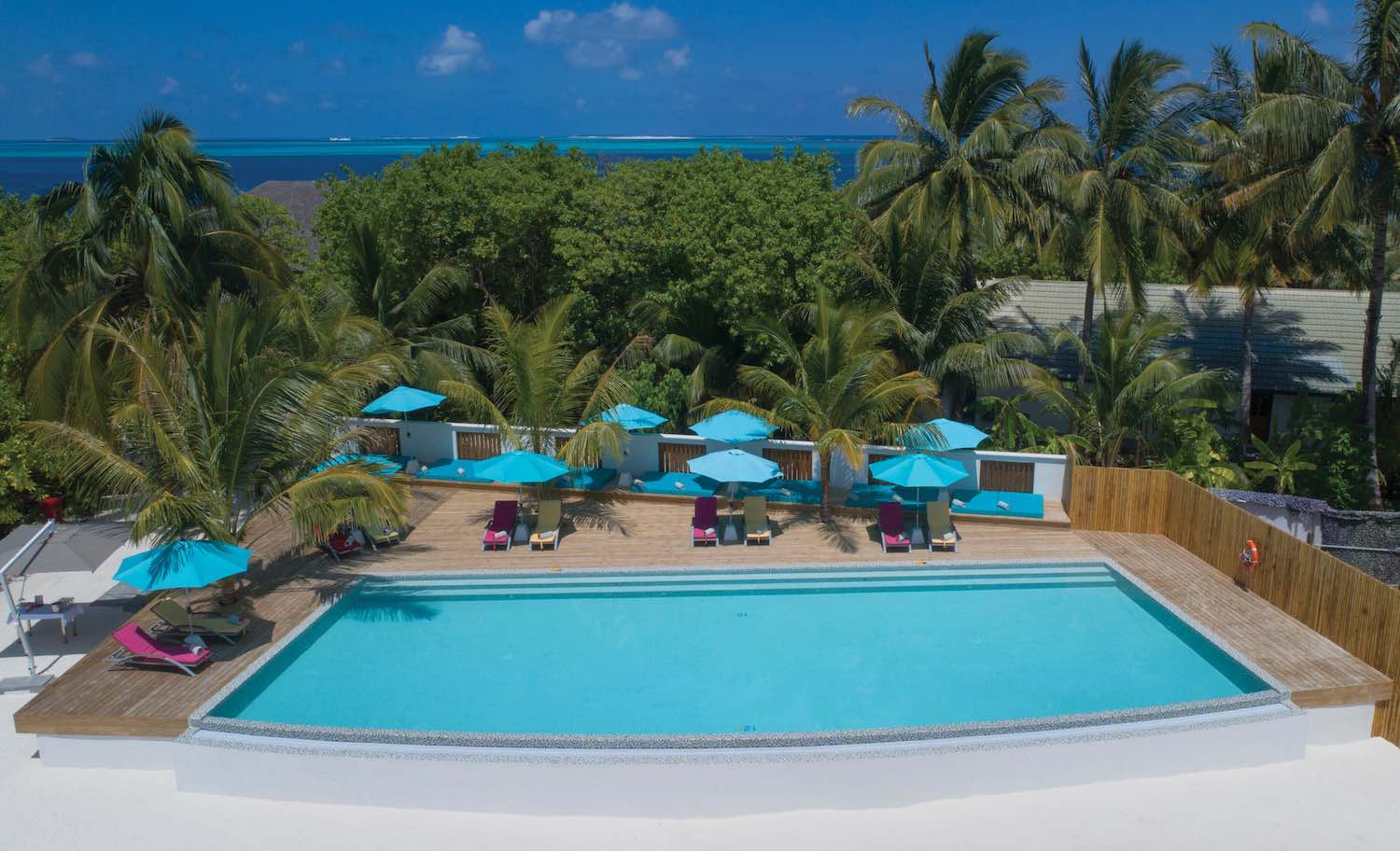 A great addition to Helengeli islnd facilities is the adults only infinity swimming pool which has been added to the south coast of the island nearby to the Just Grill restaurant. It overlooks the ocean but has a different view from that of the main pool so offers an alternative location for relaxing. The a wooden deck that surrounds the pool has a palm tree backdrop and plays host to comfy brightly coloured sun loungers, shady parasols and big day beds. It's the perfect spot to while away a few hours with a book and exotic cocktail in hand whilst you watch the waves roll in.
Just Grill
(Speciality restaurant)
This beachfront à la carte restaurant is located on the south coast of the island and open for dinner where they serve up tasty meat grills and fresh as it gets seafood.
Sat by the waters edge with sand on your feet, there's a genuine island ambience here typical of the Maldives. The views out to sea are wonderful and the staff do such a good job of making it a special experience for you.
It's an ideal way to dine for a night or two during your stay. Please note that this restaurant is not part of the All-Incluisive Plan so it will be chargeable during your stay.
There is a lovely spa located on this island resort where you enjoy a range of spa services that will relax your mind and body. Treatment rooms are both indoor and outdoor.Spa services include:
Massages therapies such as Maldivian, Balinese, Swedish, Sports, Hot Stone, Reflexology and Ultimate Aromatherapy Experience

Ayurvedic treatmens

Skin polishes

Luxury pedicures and manicures

Welness services like Yoga, Reiki, Meditation and Tibetal Singing Bowl
At Invite to Paradise we can offer this Maldives resort for a holiday or honeymoon either on its own or as part of a twin center holiday with Sri Lanka. It's a very popular option to visit Sri Lanka first followed by the Maldives afterwards.
We have a special relationship with the Maldives and a very strong connection with this resort.
Please contact us today and get a free quote for your holiday or honeymoon to the Maldives as we will be happy to help you.